Costco has a great seafood selection and one of the items I regularly purchase is the cod.  Cod is a very mild white fish that is low in calories and fat.
Cod has a firm texture that makes it fine for grilling, pan searing or even cooking in an air fryer. Of course, if you aren't worried about keeping things healthy, you can always coat some cod in batter and then deep fry as part of an authentic "Fish and Chips" dinner.
Where Does Costco Get Their Frozen Cod?
Costco typically has two types of unseasoned cod that are sourced from different locations.
My Costco has whole cod filets, previously frozen, in the coolers by the meat display.  These filets are from Pacific Cod that are marked "Product of Alaska".
My Costco also carries a two pound bag of frozen, individually packaged, single serving, cod filets.
These six ounce single serving filets, sold under the Kirkland Signature brand, are Atlantic Cod that are marked as a Product of Norway.
Types of Frozen Cod at Costco
Costco has several types of frozen cod for sale in addition to the unseasoned filets.
Sometimes you can find Trident Beer Battered Cod in the freezer section.  Many people like the battered cod but I am not a fan.
I recently came across a box of Kirkland Signature Everything Seasoning Breaded Cod at Costco and I think it's great.
I have read reports of some warehouses carrying a Miso Glazed Cod but I have not seen this product in Baton Rouge.
How Much is Costco Cod?
These prices are current as of December, 2021.
The whole Pacific Cod filets cost $7.99 per pound.  The filets are in the 3.5-4 pound range so the package will cost around $30.
The Atlantic Cod filet portions cost $8.25 per pound.  The filets come in a two pound bag that costs $16.49.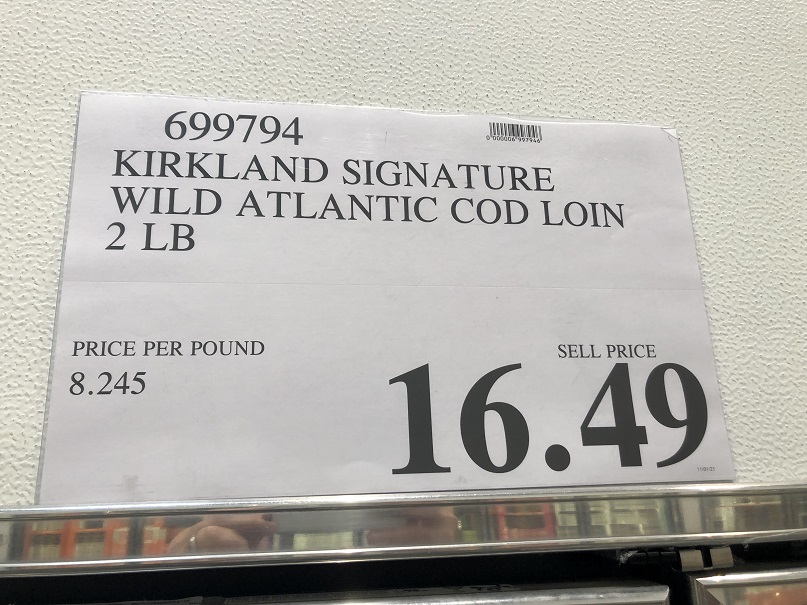 Compared to Costco's lobster tails and King Crab legs, the cod comes off as an extreme bargain!
Cod Nutrition
A six ounce portion of cod contains:
Calories: 140
Fat: 0g
Cholesterol: 80 mg (27% DV)
Sodium: 100 mg (4% DV)
Carbohydrates: 0g
Protein: 33g (66% DV)
Cod is quite healthy for you and has fewer calories and a lot less fat then Costco's salmon.
Is the Atlantic or Pacific Cod Better?
Most people are unable to tell the difference between Atlantic and Pacific cod.
In general, Pacific cod has a higher moisture content than Atlantic cod which makes the meat a little less firm.  The meat of the Atlantic cod is usually characterized as "sweeter" than Pacific cod.
I used to buy the whole Pacific cod filet but no longer purchase this option.  The Pacific cod is thawed which means you will need to cook it within a day or two of bringing it home.  You will also need to cook all of the fish at once which is great if you have a crowd to feed but leaves you with a bunch of leftovers if you are only cooking for two.
I prefer buying the still frozen filet portions and having the flexibility to cook as much or as little as I want at a time.
How Do You Cook Costco Frozen Cod?
Thaw the fish by removing however many portions you want and placing on a plate in the refrigerator for 24 hours.  You can "force thaw" the cod under cold running water but it is not recommended.
Once the fish has thawed, remove it from its plastic wrapping and pat dry with paper towels.
Season the fish as desired.  Salt and pepper are just fine but you can go with any seafood seasoning of choice such as Old Bay, etc.
Cook the filets with medium heat to an internal temperature of 145F.  The fish cooks well by pan searing, poaching, baking in the oven, etc.
One of my favorite ways of cooking these filets is to place a 1/2 cup of Rao's marinara sauce in a skillet, place the seasoned cod on top of the marinara and then lightly heat the pan with the lid on for about six minutes.