Costco is selling a twin pack or Rao's Marinara Sauce and it is worth sticking in your shopping cart.  You want to buy this marinara because it is:
Delicious
Relatively Low Carb
A Costco Value
Keep reading to learn everything you need to know about this delightful sauce including a dozen ways to put it to use!!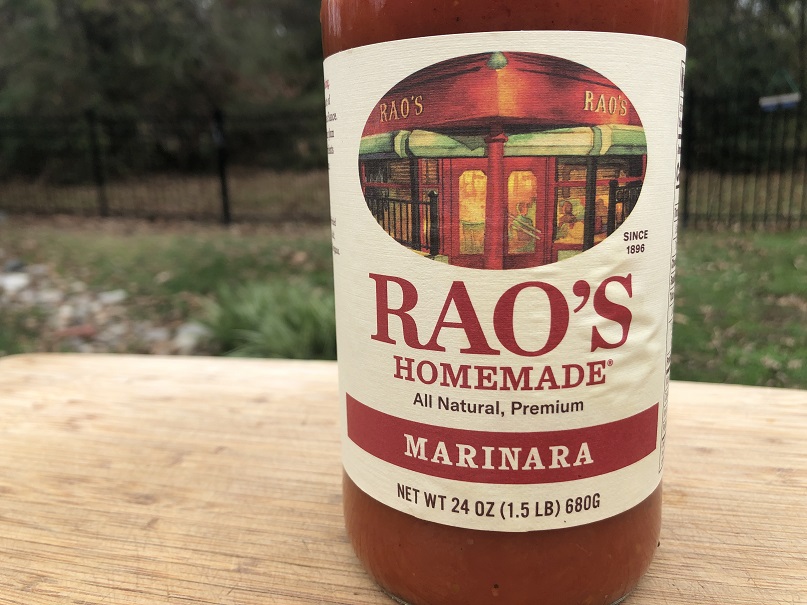 About Rao's Sauce
Rao's Homemade Marinara was voted as the Best Supermarket Marinara by the Washington Post in 2023 and it is a well deserved award.
In the realm of culinary delights, the name Rao's resonates with an unspoken promise of delectability.
The saga of the Rao family's gastronomic journey commenced with the crafting of authentic Italian pasta sauces, a tradition that first graced the tables of Rao's renowned New York establishment, and subsequently found its way to Rao's Las Vegas and Rao's Los Angeles.
The pursuit of crafting a sauce of unparalleled taste, employing only the choicest of ingredients, evolved into a relentless passion. Frank Pellegrino Sr. chose to encapsulate these enchanting sauces within glass confines, thereby giving birth to the Rao's Homemade® premium pasta sauce brand.
Rao's Homemade® swiftly ascended to the pinnacle of the premium pasta sauce market, a position it earned and retained for an undeniable reason: Rao's sauces are a labor of love, slow-cooked and produced in petite batches, with an unwavering commitment to quality. The ingredients are nothing short of the best, featuring pure Italian olive oil and hand-selected, naturally matured tomatoes from the sun-kissed southern regions of Italy.
Rao's sauces are a testament to purity, devoid of tomato blends, paste, water, starch, fillers, artificial colors, or added sugars.
The culmination of this meticulous process? A bona fide, nutritionally rich, and irresistibly delectable tomato sauce that stands as a reliable cornerstone for creating meals that tantalize the palate.
Nutrition and Ingredients
Let's take a closer look at what you get with this sauce.
Nutrition Facts
You get two jars of marinara with each jar containing 28 ounces of product.  One serving is one half cup of sauce and there are about 10 servings when the contents of the two jars are combined.
The nutritional facts for a single serving are:
Calories: 100
Fat: 7g (9% DV)
Cholesterol: 0mg (0% DV)
Sodium: 420mg (18% DV)
Carbohydrates: 6g (2% DV)
Protein: 2g
One gram of the carbs in this sauce is dietary fiber so the total net carbs is only 5g.  If you are on a low carb or diabetic diet then this marinara sauce should be on your radar screen as it is the lowest carb marinara that I have come across.
As a comparison point, Newman's Own Marinara has less calories per serving (80 calories) but almost twice as many net carbs (9g).
Ingredient List
The marinara has the following ingredients:
Italian tomatoes
Olive oil
Onions
Salt
Garlic
Basil
Black pepper
Oregano
There are no added sugars in the sauce.
Taste Test!
Rao's is a classic Italian marinara and is quite rich and flavorful.  If you have never tried this sauce before then the most appropriate description is, "It tastes like what you think marinara should taste like but better."
The sauce is smooth and does not contain big chunks of tomatoes or onions.
Because the sauce has no added sugars it is not overly sweet.  Additionally, the flavors are surprisingly fresh.  This sauce is just as good, if not better, than any homemade sauce that I have made.
I experimented with several low carb, diabetic friendly recipes with this sauce and one of my favorites was marinara stuffed mushrooms that I cooked in my air fryer and served on top of a bed of spiralized squash noodles.
This sauce is a happy coincidence.  It was developed to be delicious and just happened to come out as low carb friendly!
12 Ways to Use the Sauce
Here's are a dozen great ways to use this tasty marinara sauce!
Spaghetti and Meatballs: Serve the sauce over cooked spaghetti noodles with your favorite meatballs for a classic Italian dish.
Pizza Sauce: Use the marinara as a base for your homemade pizza. Spread it on the pizza dough and add your desired toppings before baking.
Bruschetta: Top toasted baguette slices with marinara sauce, fresh basil, and grated Parmesan cheese for a delicious appetizer.
Baked Chicken Parmesan: Coat chicken breasts with marinara, sprinkle with mozzarella and Parmesan cheese, and bake until the chicken is cooked through and the cheese is melted and bubbly.
Eggplant Parmesan: Layer fried or baked eggplant slices with the sauce and mozzarella cheese, then bake until the cheese is golden and bubbling.
Stuffed Bell Peppers: Fill bell peppers with a mixture of cooked rice, ground meat, and marinara sauce. Bake until the peppers are tender and the filling is cooked through.
Marinara Meatball Subs: Fill a sub roll with cooked meatballs, marinara, and melted cheese. Toast until the cheese is melted and the sandwich is heated through.
Tomato Soup: Warm the sauce with some vegetable or chicken broth to create a quick and flavorful tomato soup. Serve with crusty bread or grilled cheese sandwiches.
Baked Ziti: Toss cooked ziti pasta with marinara sauce, ricotta cheese, and mozzarella cheese. Bake until the cheese is melted and bubbly.
Dipping Sauce: Serve as a dipping sauce for mozzarella sticks, garlic bread, or breadsticks.
Ratatouille: Use marinara sauce as a base for a vegetable medley of eggplant, zucchini, bell peppers, and onions. Simmer until the vegetables are tender and the flavors are well combined.
Chicken Parmesan Casserole: Layer cooked chicken breasts, marinara sauce, and mozzarella cheese in a baking dish. Bake until the cheese is melted and golden brown.
Rao's Sauce is a Costco Value
This sauce is Item Number 1234826 and can be found in the unrefrigerated grocery aisles near the other sauces and dried pasta options.
You can by the two pack of 28 ounce jars of Rao's Marinara at Costco for $10.79 which comes out to a cost of $0.193 per ounce.  You can buy a single 24 ounce jar of this marinara at Walmart for $6.12 which comes out to a cost of $0.225 per ounce.
This means you save $0.032 per ounce (14%) when you buy the larger size at Costco.