One of my standard pantry items is the Kirkland Signature Canned Chicken from Costco.  The Costco canned chicken is a great source of lean protein and helps make for some quick weeknight dinners when I just want something to eat and don't feel like cooking anything fancy.
Keep reading and we will cover:
Frequently Asked Questions about the Canned Chicken
Canned Chicken Nutrition
Canned Chicken Recipe Ideas
You get six cans of chicken per package with a drained weight of 2.6 pounds of chicken total.
Frequently Asked Questions About Costco's Canned Chicken
I did some checking and saw that folks had lots of questions about this product.
Is the canned chicken cooked?
Yes the Kirkland canned chicken is fully cooked and ready to eat.
You can warm the chicken up if desired but it is fine to eat it straight from the can.
How long will it last?
The cans of chicken I just bought in 2022 have a "Best Used By Date" of 2025.  This means the chicken should last at least three years.  Since the date provided on the can is a Best By Date instead of an Expiration Date the chicken will probably last a little more than three years.
This assumes that the can is undented and is being stored at regular pantry type conditions.
This is a much longer shelf like than you would get l=with a refrigerated product like Trader Joe's Just Chicken.
Should you rinse canned chicken?
I have never rinsed the chicken before using it but I don't see any harm in doing so.
Rinsing the chicken would probably wash off some of the salt that was used to season the meat so that could be a good or bad thing depending on what you are going for.
Kirkland Canned Chicken Nutrition and Calories
Each can of chicken has 3.5 servings with a single serving being 2 ounces.  The calories and nutrition for a single serving are:
Calories: 60
Fat: 1g (1% DV)
Cholesterol: 45mg (15% DV)
Sodium: 270mg (11% DV)
Carbohydrates: 0g (0% DV)
Protein: 13g
I love that you can eat the whole can of chicken, which is extremely filling, and it is only 210 calories.
Canned Chicken Recipe Ideas
Like I mentioned earlier, I like to use the canned chicken for fast and easy meals.  Just about the easiest thing you can make with the chicken is a really tasty lettuce wrap!
I will open a can of chicken, drain off the water and place it into a bowl.  Next I will add a little more than 1/4 cup of Kirkland Salsa to the bowl and mix the two together.
I spoon the mixture into Romaine lettuce leaves to make little boats, fold the lettuce over on itself and dig in! The wraps are cool, crisp and flavorful.  You can dress these up more if you wanted with some sliced almonds, sour cream or guacamole.
I will get about four large lettuce wraps per can of chicken and am absolutely stuffed and satisfied after dinner.  The best part is that, in addition to being really tasty, the entire massive meal is under 300 calories.
Huge flavor, massive quantities and low calories.  That is a win in my book!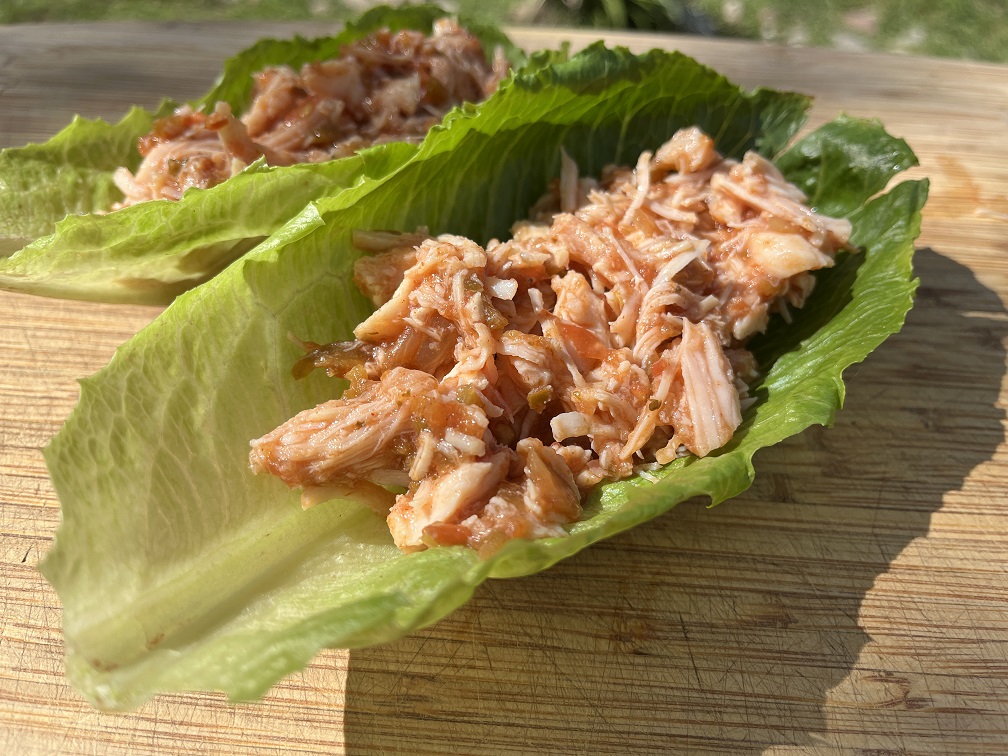 More Recipe Ideas
The video below from Allrecipes provides 10 great recipes that utilize canned chicken.  The recipes in the video are:
Buffalo Chicken Dip

Broccoli, Rice, Cheese, and Chicken Casserole

Mandarin Chicken Pasta Salad

Quick and Easy Chicken Noodle Soup

Sassy Chicken Enchilada Dip

Chicken Parmesan Casserole

Chicken Salad with Bacon, Lettuce, and Tomato

Easy Hand-Held Chicken Pot Pies

Mexi-Chicken Avocado Cups

Six Can Chicken Tortilla Soup