The Costco Pulled Pork, sold under the Kirkland Signature brand, is hickory smoked and full of flavor. The pulled pork not use any added nitrates or nitrites which is a welcome change from Costco's previous version of the product.
My overall review is that the Costco pulled pork is very good and I give it a solid recommendation.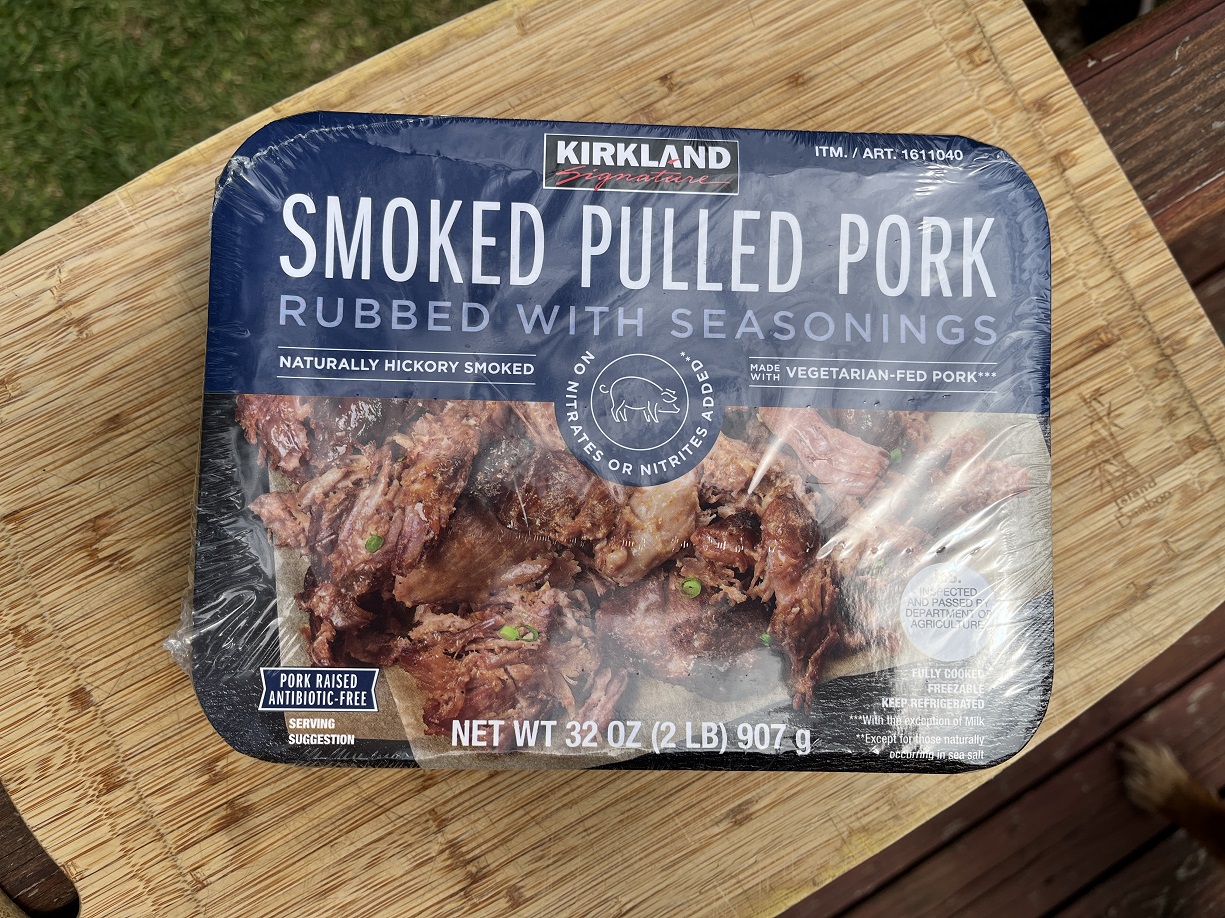 Heating Instructions
Costco provides heating instructions for the pulled pork using either a microwave or a stovetop.
Microwave Heating
Remove the plastic wrap and cardboard outer sleeve.
Poke a few holes into the plastic bag holding the pulled pork.
Keep the plastic bag inside the plastic tray.
Heat in the microwave on High for 7 minutes.
Let stand for 2 minutes, empty contents of the pouch into the tray and serve.
I followed these directions and found that the center of the pulled pork was not fully heated.  I mixed up the meat with a fork and microwaved on High for two more minutes and it came out great.
Stovetop Heating
Remove the plastic wrap and cardboard outer sleeve.
Bring a pot of water to a boil.
Place the pouch containing the meat into the boiling water.
Let the pouch boil for 12-15 minutes.
Carefully remove the pouch and pat dry.
Empty contents of the pouch into the tray and serve.
This method works just fine but the microwave method is easier and faster.
Taste Test
I tried some of the pulled pork by itself straight out of the tray and was seriously impressed at how much better this tasted than Costco's previous version of the product.
The meat was shredded into reasonable bite sized pieces, smoky, well seasoned and contained minimal fat.   There was enough greasiness to let you know that you were eating pork but not so much as to be unpleasant.
The meat was certainly "rich" but none of the flavor components was over the top and overall things were nicely balanced.
I have made pulled pork that was much better than this on my little Traeger pellet grill but I have also made some that was much worse.  The Kirkland Signature product is absolutely respectable.
Serving Ideas
I made a true Costco feast and made a pulled pork sandwich.
For the bread I used a toasted Costco ciabatta roll and the pork was sauced with a Pineapple Habanero glaze that I also picked up at Costco.
Man, this was a flat out perfect sandwich that just works!
Costco Pulled Pork Super Sandwich
A package of Costco Pulled Pork is heated and then served on a toasted roll with a Pineapple Habanero sauce.
Ingredients
2

lbs

Costco Pulled Pork

4

Ciabatta Rolls

4

tbsp

Pineapple Habanero Sauce
Instructions
Heat the pulled pork according to package directions (microwave on High for 7 minutes or boil for 15 minutes)

Slice the ciabatta rolls in half and toast until golden and crunchy.

Add 1/2 pound of the heated pulled pork to the toasted roll and top with a tablespoon of the Pineapple Habanero sauce.

Unhinge your jaw and take a massive bite of glorious porky goodness!
Notes
You can substitute a spicy vinegar sauce for the Pineapple Habanero Sauce if desired.
You can stretch the meat to make 8 sandwiches by reducing the pork to a quarter pound portion and topping with a pile of creamy Coleslaw.
Other ways to use the meat beside making sandwiches are:
Pulled Pork Tacos
Meat Lovers Nacho Platter
Pizza Topping
Pork Filled Quesadillas
Mix it in with Costco's Mac and Cheese
Stir into a pot of chili
Make BBQ Eggrolls
Pulled Pork Grilled Cheese
Convenience
The pulled pork is fully cooked and comes in a two pound package.
I love the two pound package size.  When I make my own pulled pork from an eight pound pork butt I end up with about four pounds of pulled pork and I get really tired of eating it after a few days.  The two pound package size is perfect for making up four large sandwiches and not having any leftovers to deal with.
I also appreciate that the pork is already cooked.  Making your own pulled pork in a smoker will take you around 10 hours so to say that this is a timesaver is a massive understatement.
Calories
One serving is three ounces and has the following calories and nutritional information:
Calories: 160
Fat: 11g
Cholesterol: 60mg
Sodium: 780mg
Carbohydrates: 1 g
Protein: 16g
Ingredients
The pulled pork has the following ingredients:
Pork
Water
Vinegar
Salt
"Natural Flavoring"
Black Pepper
Paprika
Red Pepper
Garlic Powder
It is not possible to say whether the pulled pork is Gluten Free as I have no idea what is in the "Natural Flavoring".
Storage
The pulled pork must be refrigerated and is stamped with a Use By/Freeze By date that is about a month from the time you purchase the product.
You can freeze the pork and it should be good for at least 6 months with no loss of product quality.
If you do freeze the pork then I you can heat it straight from frozen by either:
Using the defrost setting on your microwave prior to heating.
Boiling on the stovetop for an extra 10 minutes.
Any leftovers should be consumed with four days.
Item Number and Location
The Kirkland Signature Smoked Pulled Pork is Item Number 1611040 and is found in the refrigerated coolers near the deli where you can also find the fully cooked Costco Pot Roast.
It is too soon to tell if this is a seasonal product so if you don't see it in your warehouse you can check with a store associate to see if it will be stocked.
Price
The two pound package of smoked pulled pork is priced at $13.99.  This comes out to a cost of about $7 per pound or $1.31 per three ounce serving.
Paying $7 per pound for a pork product seems a bit high.  As a reference point, the last time I checked, the price of the Master Carve Half Ham was less than $4 per pound.
On the flip side, $7 per pound is less than you would pay for pulled pork at a barbecue restaurant and this stuff is just as good as what most bbq joints are selling.