The Kirkland Signature Oat Milk at Costco is a non-dairy beverage that is an excellent milk substitute.
The Costco oat milk comes in a case with six containers, each holding 32 ounces of oat milk.  The "milk" is shelf stable, Organic, Nut Free and Vegan.
Keep reading and we will cover:
Is Costco's Oat Milk Good?
Is Oat Milk Healthy?
How Much Does Oat Milk Cost at Costco?
Kirkland Signature Oat Milk vs Oatly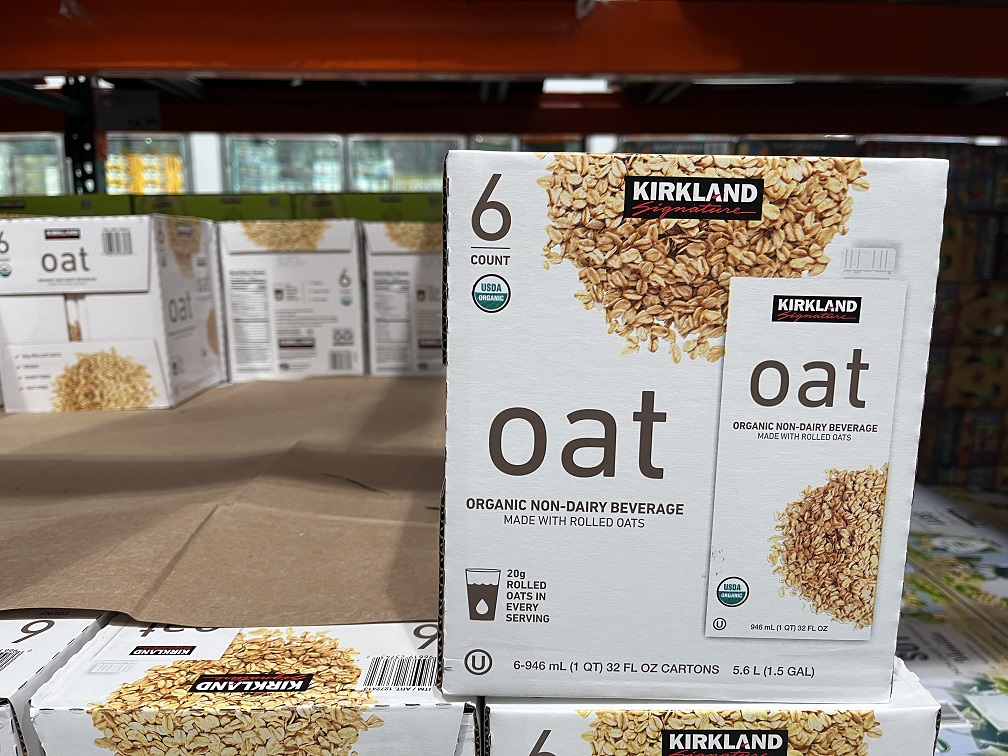 Is Costco Oat Milk Good?
Costco's Kirkland Signature Oat Milk is very good and is an excellent milk substitute.
I pulled up the customer reviews from Amazon and 84% of all of the reviews were either 5 or 4 Stars so lots of folks really like the product.  Some of the representative positive comments are provided below.
This has replaced our milk. No beany or nutty taste, contains oats and water, pretty much, good enough to have with a cookie!
The best feature is the long shelf life at room temperature as long as the package is unopened.
Personally I love this oat drink. It's great and it's shelf stable. Great taste.
About 10% of the reviews were 1 and 2 Stars which had me concerned so I dug into the comments to see what the issues were.  It turns out that the two issues people were upset about were:
The oat milk costs a lot more on Amazon than at Costco
The oat milk has added sugars.
I am going to dismiss both of these negative concerns because:
Everything is more expensive on Amazon.
The "Added Sugars" are naturally occurring (more information in the next section) 
Is Costco Oak Milk Healthy?
Oat milk is a great beverage alternative for people who are allergic to dairy or nuts as well as those who want to eat a vegan diet.  One cup of oat milk is a single serving and has the following calories and nutritional information:
Calories: 120
Fat: 5g (6% DV)
Cholesterol: 0 mg (0% DV)
Sodium: 95mg (5% DV)
Total Carbohydrates: 16g (6% DV)
Protein: 3g
Additionally, the Kirkland oat milk is Organic and contains added vitamins (B2, B12, D2).
At first I was confused as to why this product had 7 grams of added sugar per serving, especially since there are no sweeteners listed in the ingredients.
I did a little research into the topic and found the answer on the website for Oatly's oat milk.  It turns out that one of the ways you get a creamy oat milk is through an enzymatic process that converts starches into sugars.  So, the "added sugars" come from the breakdown of the oats themselves and is not from cane sugar or corn syrup being added into the mix.
Compared to a cup of low fat milk (cow) this oat milk has:
More Calories (120 oat vs 104 low fat milk)
More Fat (5g oat vs 2.5g low fat milk)
Less Protein (3g oat vs 8.5 low fat milk)
In a nutshell, I would say that the oat milk is not as healthy as low fat cow's milk but is a nice alternative for folks that don't consume dairy.
How Much Does Oat Milk Cost at Costco?
The six pack of 32 ounce oat milk containers costs $11.89 at Costco which works out to a price of $0.062 per ounce.  This makes the oat milk about twice as expensive as Costco's Almond Milk.
On the Costco website I have seen where they are selling Califia Farms Oat Milk for about 28% more per ounce than the Kirkland Signature product.  I have not seen any other oat milk brands for sale in my local Costco warehouse.
Costco Oat Milk vs Oatly
When you are talking about oat milk then you have to do a comparison against the Big Dog in the market, Oatly.
The biggest difference between the Oatly product and Kirkland Signature is that teh Kirkland product is shelf stable while Oatly needs to be refrigerated.
I did a quick search of the Facebook groups to see what the general consensus was when it comes down to the taste and overall quality of the two products.
It sounds like most people prefer the taste of Oatly but, given how expensive the product is, find the Kirkland Signature brand to be a perfectly acceptable replacement. Below are some of the representative comments from people who have tried both products:
Oatly is better (has a sweeter after taste), but I can't get Oatly anymore so this is my go to now! After a drink or two you can't notice a difference.
This is my favorite brand. The only other brand I like is Oatly but it's $5 for each one lol. It's a good creamy consistency and doesn't have a distinct flavor
It's not bad I guess Oatly is better but since this dosent need refrigeration its better to store
I personally like the taste of Oatly wayyy better. But this is organic so I guess you just have to weigh your options!
This oat milk is OK to keep in pantry for those days you run out of Oat-ly but oat-ly is waaaaaay better
This one is great, especially for coffee. Much better than Oatly. Once you open it refrigerate it.
After trying several brands my determination is that I like other brands far more but the cost difference is dramatic and I purchase the Costco oat milk because the quality is great for the price and the savings is real.
I truly prefer Oatly but the price difference is so drastic that I buy the Costco one. And the Costco one isn't bad, I just prefer Oatly.