Trader Joe's Sparkling Black Teas with Peach Juice Review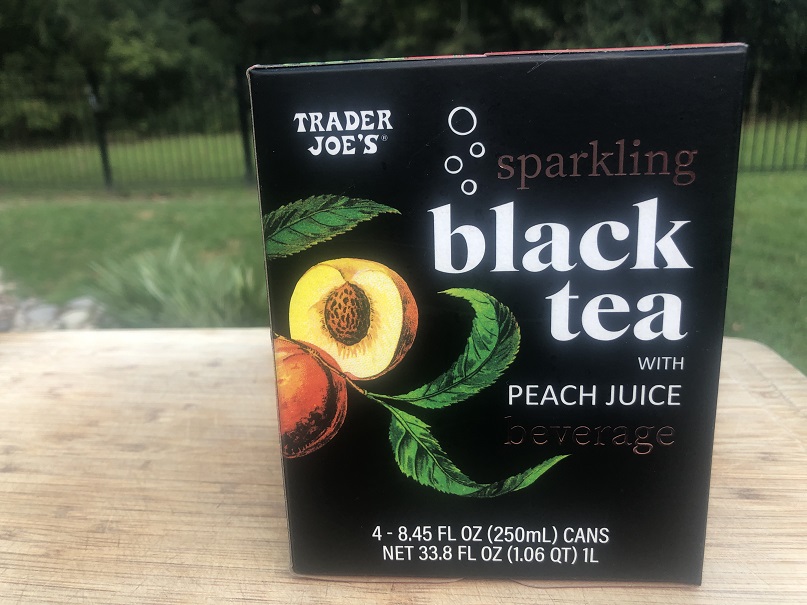 Product Name: Trader Joe's Sparkling Black Teas with Peach Juice
Product Description: Four 250mL cans of sparkling black tea with 5% peach juice.
Brand: Trader Joe's
Offer price: 3.99
Currency: USD
Peach Flavor

Refreshing

Value
Summary
Trader Joe's Sparkling Black Tea with Peach Juice is a delightful, refreshing beverage.  There is plenty of peach flavor without it being overwhelming and there is no added sugars.
If you like black tea and are a fan of peaches then you will enjoy this beverage.
Pros
Great Flavor.
Refreshing.
I saw the Sparkling Black Tea with Peach Juice at Trader Joe's and figured it was worth a try.  The four can pack only costs $3.99 so it was a great excuse to try something new for cheap!
I like black tea and I like peaches…this looked like a sure win for me!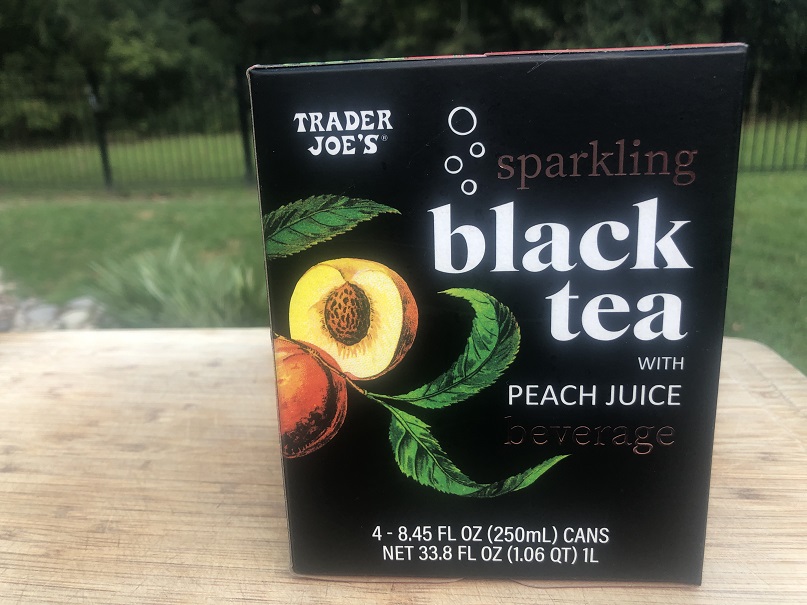 Black tea and Peach Juice Nutrition, Ingredients and Labelling
Let's take a closer look at what comes in these 250 mL cans.
Nutrition Facts
The nutrition facts for a single can of tea are:
Calories: 15
Fat: 0g (0% DV)
Cholesterol: 0mg (0% DV)
Sodium: 15mg (1% DV)
Carbohydrates: 3g (1% DV)
Protein: 0g
The carbohydrates come from the natural sugars in the peach juice.  This beverage has no added sugars.
Ingredient List
The tartar sauce has the following ingredients:
Brewed black tea
Peach juice
Carbon dioxide
Citric acid
Ascorbic acid
The beverage contains 5% peach juice.
Labelling
The labelling indicates that this product is:
Pasteurized
A Product of Vietnam
There is no indication on any of the labelling about caffeine.   Since the beverage is 95% black tea I am making the assumption that it has plenty of caffeine but I find it odd that there is no mention of this on the labelling or on Trader Joe's website.
How Does the Sparkling Black Teas Taste?
This beverage is absolutely delightful and completely lived up to my expectations.
To quote from the Trader Joe's product description:  "Perfectly peachy, ultra-fizzy, and subtly sweet, this bold beverage sips like a sparkling summer afternoon."
The peach flavor is distinct but not overpowering and while there is a touch of sweetness it is not a sticky mess.
The carbonated fizz is a nice touch. I usually drink unsweetened ice tea so my mouth was a little surprised by the carbonation.
Trader Joe's suggests that you can drink this straight from the can, over ice or even use it as a cocktail mixer.  Straight from the can works best for me.  I am too lazy to get out a glass!
The beverage is refreshing and the 8.45 ounce cans provide just enough tea to quench your thirst.
This is a delightful and refreshing drink and I am glad I made the purchase!