Costco is selling the Primal Kitchen Korean BBQ Sauce in a two pack with each bottle containing just over one pound of sauce.  I bought the two pack and have been having fun experimenting with different ways of putting it to use.
I have been delighted with the unique flavor of the sauce and its versatility in a wide range of dishes. I also enjoy that the sauce is relatively healthy.
Overall I really enjoy the sauce and am glad that I made the purchase!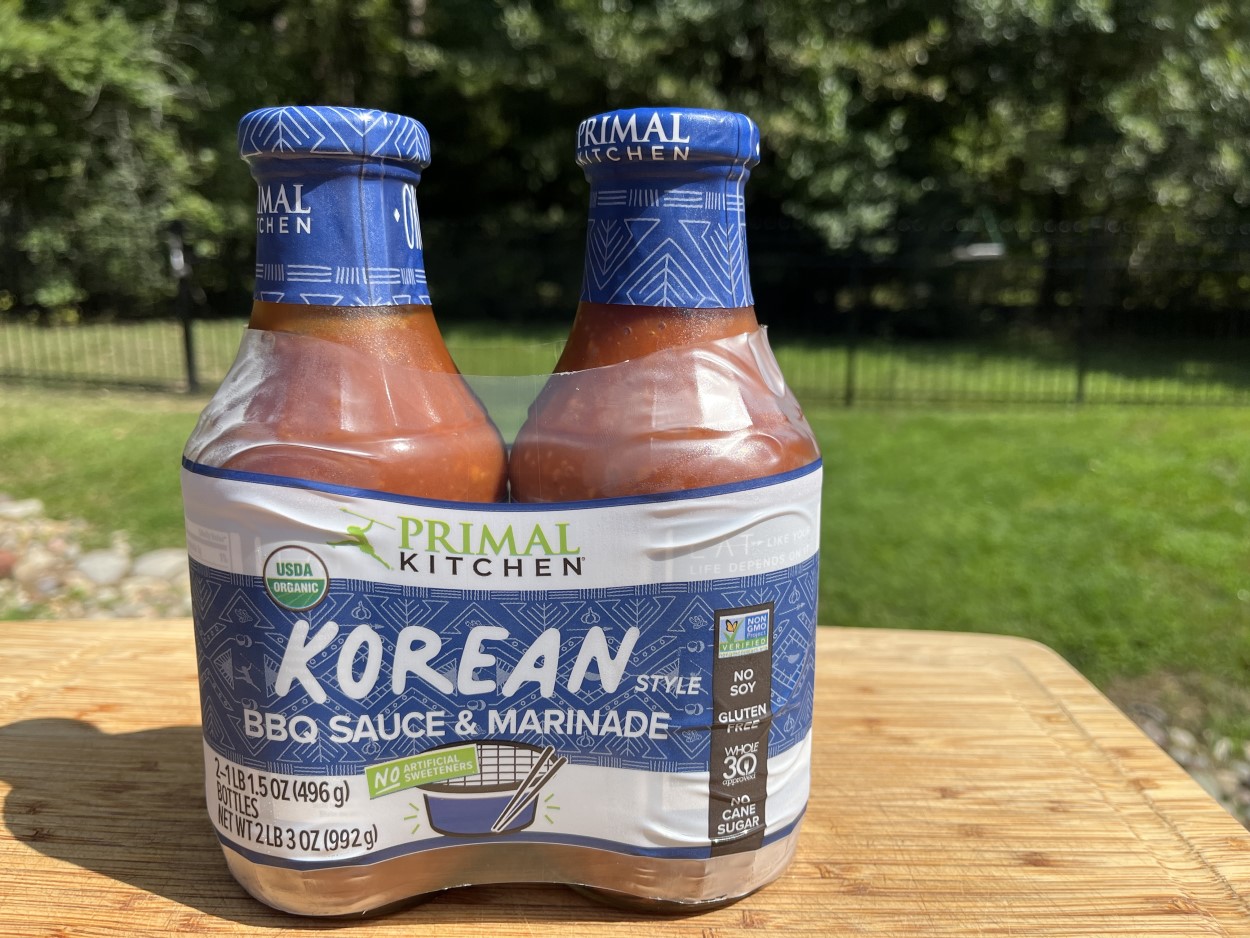 Taste
The flavor of the bbq sauce is quite similar to what I have been served at multiple Korean restaurants so I will give it points for being close to authentic.
The sauce does not taste like a traditional American barbecue sauce like Kinder's Honey Hot but does share some of the same flavor notes.
Specifically, the Korean sauce is tomato based flavored with a twang from apple cider vinegar.  After the similarity of the initial ingredients the flavor profiles diverge with the Korean style sauce have strong notes of pears, figs, ginger and sesame.
The sauce has a consistency that is a little thicker than ketchup.
How to Use the Sauce
This is an incredible versatile sauce that I have used many different ways.
One great way to use the sauce is as a marinade for Korean style beef short ribs.  I soaked these beef ribs in the bbq sauce for 24 hours and then grilled them hot and fast for about four minutes per side.
The sauce complimented the flavor of the beef quite nicely and did not burn when cooked at high heat.  (Here is the link to see how the short ribs turned out!)
I have also been using the Primal Kitchen sauce as a condiment when I make a sandwich with the Don Lee Farms Grilled Chicken Patties.  The pear and fig flavors liven up the bland chicken and bring a touch of something new and exciting to an other wise plain and boring chicken sandwich.
The sauce has also been excellent when served as a dipping sauce alongside some air fried chicken dumplings.  I realize that I have probably broken some sacred rules about cross cultural bastardization of Asian cuisines but all I care about is that the combination is excellent.
Other serving ideas that are suggested by Primal Kitchen are:
Stir Fry Sauce
Wings
Rice Bowls
Tacos
Calories and Nutrition
One tablespoon of the sauce is a single serving and has the following calories and nutritional information.
Calories: 15
Fat: 0.5g
Cholesterol: 0mg
Sodium: 6%
Carbohydrates: 3g
Protein: 0g
I freaking love that the sauce is low in calories, fat and carbohydrates.  There are a LOT of sauces on the market that are absolutely loaded with fat and extra calories and will quickly turn a healthy meal into a caloric train wreck.
This sauce is pretty much guilt free as far as I am concerned!
Ingredients
The sauce is made from the following ingredients:
Water
Tomato Paste
Apple Cider Vinegar
Coconut Amigos
Pear Juice
Onion Puree
Sesame Oil
Distilled Vinegar
Figs
Ginger
Tapioca Starch
Salt
Sesame Seeds
Yeast Extract
Onion  Powder
Garlic Powder
Ginger Powder
Cayenne Pepper
Celery Seed
The sauce is Organic, Gluten Free, Soy Free, Non GMO and Whole 30 compliant.
Storage
The unopened bbq sauce is shelf stable and marked with a Best Buy date that is about two years from your date of purchase.  The unopened sauce should be stored in a cool place away from sunlight.
Once a bottle has been opened it must be stored in the refrigerator where it will last for 6-8 weeks.
Price
The Primal Kitchen Korean BBQ Sauce is Item Number 1741105 and it can be found in the non-refrigerated grocery aisles with the other condiments.
The two pack of sauce cost me $11.99 or $0.343 per ounce.
My first thought when I was buying this sauce was that a cost of almost $6 per bottle seemed expensive.  However, now that I have played around with the sauce for a while I love that I have a sauce that is:
Flavor Packed
Uniquely Flavored
Low Calorie
I think, that given the quality, the price is quite reasonable and I will probably stock up the next time I am at Costco just to have a couple extra bottles in my pantry.