Costco is now selling the Riced Cauliflower Stir Fry from Tattooed Chef.  If your local Costco has this in stock then you will find it in the freezer section next to the plain frozen riced cauliflower.
This low carb stir fry features riced cauliflower, red bell peppers peas and corn and is lightly seasoned with ginger and sesame.
Keep reading to see if this stir fry is right for you and your family.
Calories and Nutrition
Let's take a closer look at what you get with this stir fry mix.
Nutrition Facts
You get four 12 ounce packages of stir fry with each three pound bag of stir fry mix. One cup (105 g) is considered a single serving and there are about 13 servings per bag.
The nutritional facts for a single serving are:
Calories: 60
Fat: 3g (4% DV)
Cholesterol: 0mg (0% DV)
Sodium: 290mg (13% DV)
Carbohydrates: 8g (3% DV)
Protein: 3g
Of the 8 grams of carbohydrates 2 of them are dietary fiber which leaves you with 6 net grams of carbs per cup.
I prepare an entire 12 ounce bag when I make this and that has 3.24 servings.  If you cook and eat a 12 ounce package then you get 194 calories and 19 net grams of carbs.
Ingredient List
The stir fry has the following ingredients:
Riced cauliflower
Stir Fry Sauce

Water
Tamari Sauce
Sesame oil
Sugar
Ginger powder
Vinegar
Salt
Garlic
White pepper

Peas
Red bell pepper
Corn
Leeks
The product is labeled as Gluten Free, Vegan and Organic.
Cooking Instructions
Please, do NOT follow the cooking instructions that are printed on the package.
The package instructs you to heat two tablespoons of olive oil in a wok, add the contents of a 12 ounce bag of stir fry mix and cook for 6-7 minutes until heated through.
This is simply insane.
Using two tablespoons of olive oil will:
Increase the calorie count from 200 to 440.
Completely overwhelm the flavor of the sesame ginger dressing. 
I cook the stir fry by:
Lightly spray a wok with Pam 
Add the contents of a 12 ounce bag of stir fry
Cook over medium heat stirring/tossing often for 5 minutes
Serve when heated through topped with a protein of choice
Taste Test
I topped the 12 ounces of stir fry with a 90 calorie Trader Joe's Shrimp Burger patty (1 gram carbs) and had a MASSIVE lunch.  This was a serious feast that had less than 300 calories and only 21 grams of carbs.
The cauliflower stir fry tastes great!
I like cauliflower but a lot of times when I am eating a cauliflower rice based meal I get overwhelmed and exhausted by the cauliflower flavor.  This was not the case with this stir fry as the sesame ginger seasoning masked much of the cauliflower flavor.
The peas and corn provide some nice textural contrast. The red bell pepper and peas combined to provide two types of sweetness that made the dish interesting.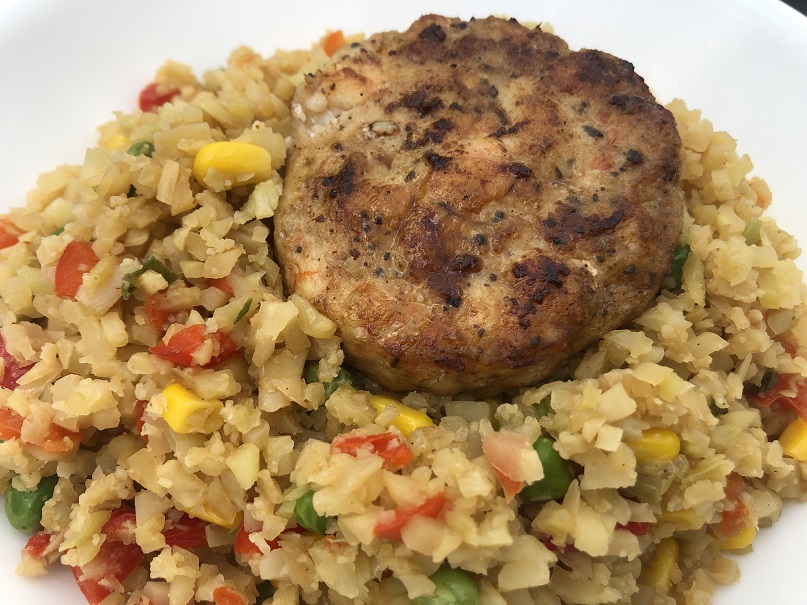 It was a struggle for me to finish the meal simply because it was so much food!
Other than the insane cooking instructions, there is absolutely nothing that I didn't like about this product.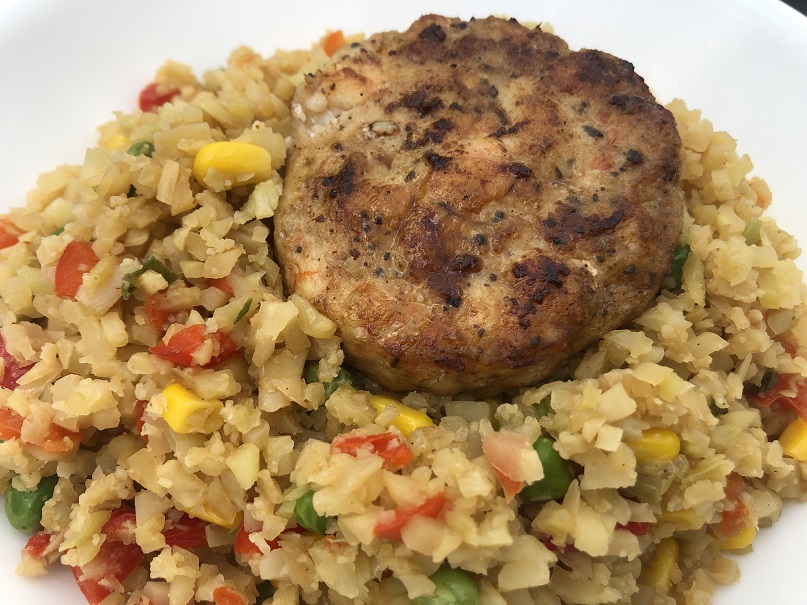 Tattooed Chef Cauliflower Rice Stir Fry with Shrimp Burgers
The Tattooed Chef Cauliflower Rice Stir Fry is heated through and served with a tasty shrimp burger.
Ingredients
12

oz

Tattooed Chef Cauliflower Rice Stir Fry

frozen

1

tsp

Pam Cooking Spray

4

oz

Shrimp Burger

or protein of choice
Instructions
Spray a wok or skillet with Pam and heat over Medium heat on the stove top.

Add the frozen cauliflower rice to the wok and toss frequently.

While the cauliflower rice is heating cook the shrimp burger in an air fryer for 10 minutes at 425F.

Cook the cauliflower rice for 5-7 minutes until heated through.

Plate the cauliflower rice and top with the shrimp burger or protein of choice.
Other Serving Ideas
Just in case you are looking for some more ways to serve this product I made up a little list!
Stuffed Peppers: Cut off the tops of bell peppers and remove the seeds and membranes. Fill the hollowed-out peppers with stir fry and bake them in the oven until the peppers are tender and the filling is heated through. Garnish with fresh herbs and serve as a delicious stuffed pepper dish.
Lettuce Wraps: Use large lettuce leaves such as romaine or butter lettuce as wraps for your stir fry. Simply spoon the stir fry onto the lettuce leaves, roll them up, and secure with toothpicks.
Sushi Roll: Spread a thin layer of cauliflower rice on a sheet of seaweed and add your favorite stir-fried veggies, cooked protein (such as tofu, shrimp, or chicken), and a drizzle of sauce. Roll up the seaweed tightly and slice into bite-sized pieces to create a unique sushi roll alternative.
Stuffed Squash: Cut a squash, such as zucchini or acorn squash, in half lengthwise and scoop out the seeds. Fill the squash halves with stir fry and bake them in the oven until the squash is tender and the filling is hot. Sprinkle with cheese or breadcrumbs for added flavor and crunch.
Burrito Bowl: Layer the stir fry in a bowl with black beans, corn, diced tomatoes, shredded cheese, and sliced avocado for a tasty and satisfying burrito bowl. Top with sour cream or Greek yogurt and serve with tortilla chips or tortillas on the side for a creative twist on a classic Mexican dish.
Price
I bought the three pound bag of cauliflower stir fry at Costco for $9.49 which works out to a cost of $3.16 per pound.
You can buy a 12 ounce bag of this stir fry mix at Target for $3.99 which works out to a cost of $5.32 per pound.
This means that you can save $2.16 per pound (40%) by purchasing the riced cauliflower stir fry at Costco.